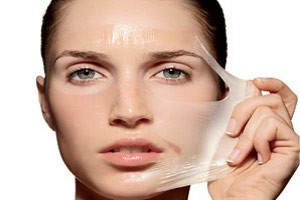 Peels are the next step in corrective skin care! We offer a variety of light, medium and deep peels for all skin types. Peels enhance and smooth the skins texture. They are also an effective treatment for blemishes, wrinkles and uneven pigmentation.
Light Peel 
A superficial chemical peel (or light chemical peel) is the mildest option, targeting the outer layer of the skin (epidermis). It can help minimize the appearance of pores and wrinkles, improve uneven skin tone and reduce dark spots. 
This type of skin peel typically uses alpha hydroxy acids such as glycolic, salicylic, lactic, malic, kojic or a combination of these acids. However, enzymes can also be used to penetrate the outer layer of skin. 
Though superficial peels are generally gentle on the skin, you might notice some redness shortly after and potentially some minimal flaking. A  light peel will usually stop flaking within one to seven days, but you can most likely wear makeup the next day.
Medium Peel
A medium chemical peel is a step up from a superficial peel in that it gets into the middle layers of the skin. Medium-depth peels usually have a relatively high concentration of glycolic, hibiscus, lactic, salicylic, or trichloroacetic acid (TCA). After getting a medium peel, you can expect some redness afterward. Medium chemical peels take one to two weeks to completely stop flaking.
Deep Peel
 Deep chemical peels are the most intense, penetrating the deeper layers of your skin. They're used to treat more serious skin issues, like acne or severe sun damage. The most common acids used in a deep chemical peel are glycolic acid, trichloroacetic acid (TCA) or layered peels with various modalities.
With a higher concentration of acids, most people have red skin following deep chemical peels. This type of peel usually takes up to two weeks to completely stop flaking.
The cost of peels at Glo are determined by the area being treated and protocol.